What parents need to know about the growing trend of 'money mules'
29 November 2017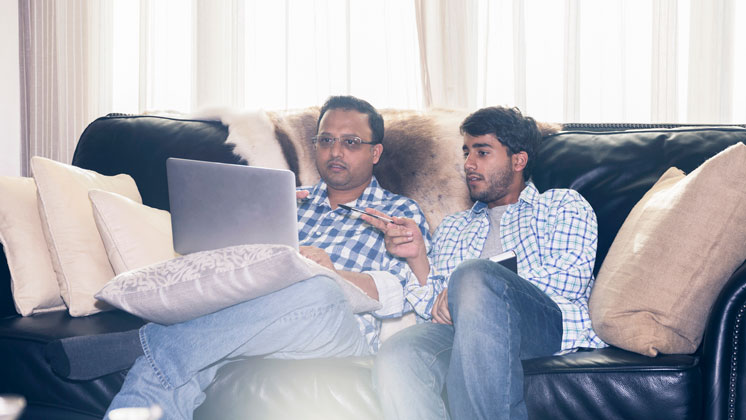 A big fear for any parent is that they have no idea what their child gets up to when they are not at home. The consolation is that kids grow up so quickly. Not only are they more street smart than previous generations, they are knowledgeable enough about technology to keep Mum and Dad out of trouble, instead of the other way around.
Which is why the growth of one particular type of crime deeply worries us at Cifas. More and more young people are letting criminals launder money through their bank accounts. Many of those that do this do not even realise they are committing a crime.
The number of under-21s acting as so-called "money mules" has more than doubled so far this year. That is despite police warnings that parents should check their children's bank accounts for suspicious activity.
What this criminal act involves is allowing a sum of money to be transferred to your account and then either transferring it on or withdrawing the funds and perhaps sending them overseas using a legitimate money transfer service. For their part in the chain, that could see them divert the proceeds of drugs or theft out of the country, the mule receives a small commission. In-debt university students have been lured into taking part. So have children as young as 13.
For all that we are living our lives digitally, the promise of cash in hand remains seductive. If, however, something appears too good to be true, it almost always is. This money can move from account to account in the blink of an eye. The act of permitting a criminal gang to use your bank details, however, can have far more lasting implications.
Because Cifas compiles the National Fraud Database from the data we gather from our more than 400 members in banking, insurance, telecoms and retail, we are well placed to join the dots. We can see that money muling now operates on an industrial scale, just like identity theft where we have also seen numbers soar.
Mules are being recruited via numerous routes. On social media, there are fake job advertisements or posts for get rich quick schemes, which might as well be publicising a search for criminal accomplices.
The offers of making a fast buck are ever-present in the real world too. We know of cases that began when a victim made a new acquaintance at university, or struck up a conversation at the school gates. They are often advised to report their bank card stolen after they have handed over their details, creating a smokescreen for their involvement.
Some gangs have even co-opted unwitting adults that run youth groups, who thought they were doing the kids a favour by handing out fliers that promised to boost their pocket money. There is also some evidence that fraudsters are trying to take advantage of people with mental health issues.
One mule frequently recruits another. Fuelled by peer pressure, this activity has become like the dare to indulge in drug taking or petty vandalism that can spread among a circle of friends. At best mules are being offered small sums of money for their trouble, at worst they are being threatened with violence if they do not hand over their bank account, sort code and PIN number.
It is not always clear to mules that they are breaking the law. Muling can be so quick and effortless, they convince themselves that no-one will notice. It is also true the police are sometimes slow to identify bank accounts used for this because muling involves relatively small sums of money that can pass under the radar.
Money laundering, however, carries a maximum prison term of 14 years. It is a stretch to think that any first-time offender will be convicted, but it could affect their credit rating, taking out a new mobile phone contract or, later in life, securing a mortgage.
It is a very sophisticated crime and demands a co-ordinated response. That is why we have chosen money muling as the subject of new campaign, run in partnership with Financial Fraud Action UK, part of UK Finance.
Young people that have grown up with the confidence to navigate social media must not be lulled into a false sense of security by dangerous promises. It is here that parents must play a bigger role to make young people question their actions. The social media companies that unwittingly carry these adverts need to be more vigilant too.
We are pleased to see financial education make its way onto the national curriculum in recent years. What Cifas wants is for schools to go further, with online safety and fraud awareness made mandatory from the age of 11. With the PSHE Association we have run a pilot covering these topics in 10 schools this autumn. Money muling, however, is growing fast. We must act faster to stop our young people being co-opted into crime.
Stay safe from scams: What to do when you are contacted with requests for personal details or payment
24 January 2018
When you are contacted with requests for personal information or money, what should you do? Find out how to protect your identity and your money from fraud and scams.
CONTINUE READING
Young people most at risk from phishing scams, says survey
31 October 2017
A new survey from Get Safe Online reveals that young people are more at risk from phishing scams than older people – they offer some tips to protect yourself.
CONTINUE READING
Back to blog home >