The counterfeiting identity crisis: why buying fake goods online puts you at risk of fraud
19 July 2018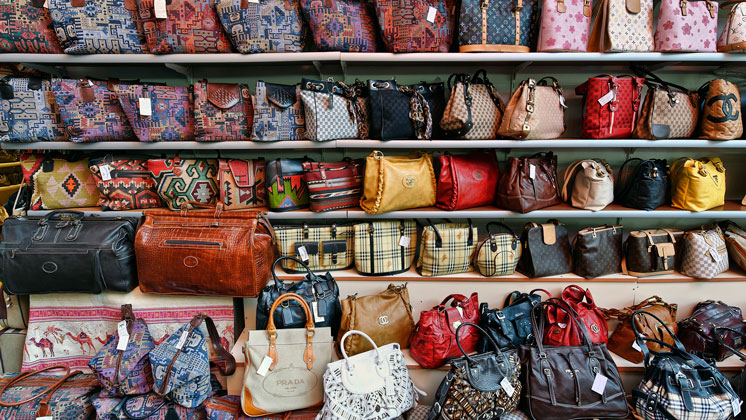 The sale of fake handbags and clothing is often seen (incorrectly) as a small crime with limited impact. As a consumer buying these products, you might see the sub-standard materials and replica logos as a small price to pay for cut-price, designer-branded products. Prices can be substantially cheaper than the original product, with discounts of around 50-80%.
An emerging trend I've discovered in my work with the Police Intellectual Property Crime Unit (PIPCU) now sees fraudsters attempting to embed malicious software, or 'malware', onto consumers' browsing devices. This can severely compromise your equipment, leading to, for example, your computer being hijacked and used for other types of criminality – all without your knowledge.
How to identify counterfeit websites
If you are shopping online there's things to look out for to avoid using a counterfeit website:
The site will usually have grammatical and spelling mistakes;
Images and web pages will fail or take a substantial amount of time to load;
Images will have been copied and are usually edited to fit into certain website templates – the pictures may not look proportionate as they have been stretched or reedited;
There's often lots of different fonts on the website and it won't have a professional finish;
Hyperlinks to associated content will fail to work.
Counterfeit goods websites often give the impression of using security authentication to give the site an air of authenticity. This includes the use of recognised images of reputable companies such as Visa, Mastercard and PayPal.
Additionally, many will also claim to have security software and secure transaction verification in place, again using reputable images such as Verisign and McAfee to give them a false 'trust seal'. These images are usually copied and embedded into the illicit website and the sites themselves will not have been approved by the firms.
The authenticity of these trust seals can be confirmed if the consumer attempts to click on any of them – original seals will direct you to the genuine security company. On counterfeit websites these links will not function, as they have no authorised hyperlink attached and will just be embedded images.
There's more at stake when it's a fake
Buying a counterfeit item means handing over personal and banking details, most often online, with little or no knowledge of exactly who will be accessing them. In the hands of a fraudster, these details open up numerous opportunities to steal the customer's identity. The most common risk is fraudsters setting up additional counterfeit goods websites in the customer's name, making it harder (but not impossible) for the criminals to be traced by law enforcement.
Sadly, I've spoken to victims who have had hundreds of counterfeit goods websites set up in their name. These victims have been directly targeted by other victims who claim they have not received the goods they were promised.
How to prevent identity theft with safe shopping
Trust your instincts. If an offer looks too good to be true, then it probably is. Legitimate designer items are rarely discounted, so do not rush and be fooled into believing you are getting a good deal;
Check the website. The spelling and grammar on the website, and of the URL, will look suspicious as often the people behind these sites will try to deceive you by slightly changing the spelling of a well-known brand or shop in the website address;
Look to see where the trader is based and whether they provide a postal address – just because the web address has 'uk' do not assume the seller is based in the UK. If there is no address supplied or there is just a PO Box or email, be wary;
Only deal with reputable sellers and only use sites you know or ones that have been recommended to you. If you have not bought from the seller before, do your research and check online reviews. People will often turn to forums and blogs to warn others of fake sites;
Ensure the website address begins 'https' at the payment stage – this indicates a secure payment;
Keep security software and firewalls up-to-date.
How is PIPCU tackling the problem?
Since PIPCU's inception in 2013, we have taken down over 40,000 counterfeit goods websites as part of Operation Ashiko. Through my work on Operation Ashiko, I track down counterfeit goods websites, find out who is running them and shut them down.
In order to combat the identity theft problem, I am contacting victims to make them aware that they have had their names and personal details used by fraudsters. It's important that those who have fallen victim take steps to check their credit rating, sign up to alert services, and consider Cifas' Protective Registration. These services can make people aware when their name is used to register for items such as a website, credit cards or banking services.
To find out more about the dangers of buying counterfeit items online go to Actions Fraud's There's More At Stake When It's A Fake page.
How to stay safe and secure online when you're on holiday
1 August 2018
Getting online on holiday is easier than ever these days – which makes it easier for fraudsters to see you online as well. Get Safe Online advises on how to stay secure online when you're abroad.
CONTINUE READING
How to buy and sell vehicles safely online
25 June 2018
Whether you're buying or selling a car online there's many ways a criminal can take advantage of you. Find out how to protect yourself from auto fraud.
CONTINUE READING
Back to blog home >