Black Fraud-day? The retail sector and Black Friday sales
28 November 2019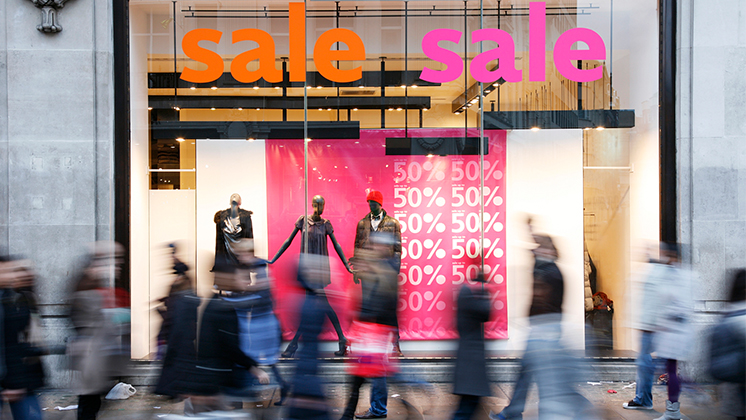 Holiday season is fast approaching and retailers are preparing, as are our wallets, for Black Friday and Cyber Monday sales. During a time of skyrocketing sales, does fraud skyrocket as well?
Increase in fraud?
The retail sector see's percentages of fraud vs. sales stay roughly the same during the holiday season. However, overall, fraud in the retail sector is on the rise with the British Retail Consortium (BRC) reporting retailers lost a total of £162m to fraud in 2019, this is a growth of £8m (5%) since 2018.
Many don't realise that Cifas is running in the background of hundreds of their favourite high street shops. Through our databases, Cifas can enable retailers to spot potential risks by identifying whether staff or customers have previously been involved in fraudulent conduct. Cifas members prevented 1.4bn in fraud last year with the retail sector being a major contributor.
Black Friday behaviours
The BRC reported that retailers saw customer theft reach £663 million in 2018, growth of £160 million (32%). We recently spoke with some of our retail members at our regular sector specific meetings around the types of suspicious activity many of them are seeing from customers, and these included:
Return and refund: Retailers are increasingly dealing with customers returning empty parcels that appear to be in original condition. A good example of this is when customers take something such as a smartphone out of the packaging, replacing it with weights, then repackage it. It is accepted back at the warehouse as it looks and feels untampered with. The item is then shipped out again which in turn can have a detrimental effect on a retailer's reputation.
Interception of goods: Cifas members have reported seeing an increase in attempts to change delivery address post transaction, either with the retailer directly or the courier company. There has also been an increase in criminals dressing in delivery uniforms, approaching addresses and claiming parcels were delivered by mistake and removing goods.
Misuse of facility fraud: Retailers report frauds where the individual opens a credit facility and fails to make a payment for the goods purchased. As reported in our annual Fraudscape report, Cifas databases recorded a 4% increase in misuse of facility in 2018.
Facility takeover fraud: Cifas members reported a massive 90% increase in facility takeovers in 2018-2019. Customers receive emails or texts from someone reporting to be a retailer. The message contains links to a fake website, victims will then proceed to enter their login information which fraudsters then use to take over the facility.
Education on location
In attempt to slow the fraudsters down, it is important that retailers educate all staff for the signs of potential financial crime.
Vigilant staff: Well-trained retail staff, in many cases, are able to spot suspicious conduct in store. This can be as a result of watching behaviours and asking the right questions - similar to bank tellers. Why are customers returning parcels? Does the customer have proof of purchase? Does their address match the order? Does an individual applying for finance have every proof of ID and address ready to hand? Is the individual spending the entire amount of the credit facility in one transaction? If something seems wrong it typically is.
Warehouse controls: Training full-time staff is a must-do, but it's the seasonal employees where training can typically be taken up a notch. What does pristine packaging look like? Are there easier ways to spot a parcel that's been tampered with? Does the parcel weigh the right amount? There are endless ways retailers can conduct checks for their products, but the point is that ALL employees that come in contact with the product should be actively searching for signs of fraud.
Segregation of duties: It's vital to have multiple eyes on the process, especially in smaller organisations where segregation of products or financial duties might be limited. Everyone should be held responsible and action must be taken if an issue is detected.
In addition to the above, a strong vetting process, especially for temporary staff, can be a key element in an effective fraud prevention stratgey. Our Internal Fraud Database allows these organisations to run potential and current staff against fraud risks and suspicious conduct.
Robust customer journey
While preventing fraud is obviously important to retailers, many are concerned that an overly aggressive fraud prevention strategy can affect their customer's experience in ways such as delayed or referred application journeys, slow transaction speeds, holdups at checkout, or payment cards not being accepted. All can lead to an abandoned basket which is seen by the sector as a lost sale.
A recent PaymentsCardsandMobile.com article highlighted a new report commissioned by Ekata revealing that a majority of consumers demand trust, security, and data privacy, and also expect their digital experiences to be fast and frictionless…
These days through utilising multiple data sources and training AI to auto investigate new applications the process is easier than ever before to process customer data and authenticate the real versus the fraudulent.
Check out our recent blog post all about balancing happy customers and fraud prevention.
Not just the retailers at risk
Which? released an article earlier this week with recent survey results showing that almost a quarter of 18-34 year olds have fallen victim to a Black Friday scam in the last five years.
These victims are falling for fake adverts selling non-existent goods. Fraudsters do this for the purpose of obtaining personal information when the victim clicks on the links provided. Before you buy anything on Black Friday, make sure you:
Use trusted websites with secure checkouts: Check for the padlock beside the web address before you enter your card details.
Check the website address: There are a number of ways to do this, including a tactical repositioning of the 'dot' (w.hich.co.uk instead of which.co.uk) or clever switching of letters that could look similar to other letters (arnazon.co.uk instead of amazon.co.uk).
Beware of 'too-good-to-be-true' deals: If it looks too good to be true, it is.
Watch out for fake reviews: If many of the reviews are the same or similar, or unrealistically positive.
If you spot a scam make sure to report it to Action Fraud 0300 123 2040.
Shopping safe online this Christmas
13 December 2019
Scams don't take a holiday break - It's important you stay vigilant when browsing and shopping online this Christmas.
CONTINUE READING
Together we can protect the vulnerable from financial crime
20 November 2019
There's a number of methods financial organisations can use to protect vulnerable people. Collaboration is key in helping detect and prevent criminals from hurting our more vulnerable loved ones
CONTINUE READING
Back to blog home >