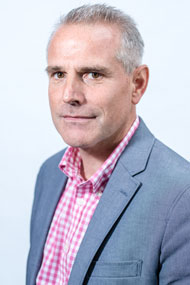 Rob has over 30 years of experience in technology and consulting. The chance to join Cifas fitted in with his desire to take on a range of technology-led non-executive roles.
"When I joined I described it as the most important organisation I had never heard of," he says. "But I really like the agenda and the feel of the organisation. It has some fantastic people."
Rob was Chief Information Officer for J Sainsbury plc for five years until 2014. He oversaw the supermarket group's most significant investment in IT platforms in over a decade, as well as chairing the Information Security Committee. One project he implemented in that time was a real-time price comparison system that allowed Sainsbury's to check at the till how much the same basket of shopping would have cost in Tesco and Asda. If shoppers found out they could have saved money elsewhere they were given vouchers to make up the difference.
"There has been an explosion in the relevance of technology in everything we do," Rob says. "The way in which we can connect people and create new commercial opportunities has grown – but so has the potential scale for fraud as well."
Earlier in his career, Rob was Vice President for Retail and Consumer Products at Computer Sciences Corporation, and Group IT Director at Boots the Chemist.
"As you would imagine in large retailing groups, there are fairly regularly cases of insider fraud," he adds. "The major players have typically been reticent about sharing details of this, so it is great that Cifas has started the conversation with its Internal Fraud Database. Nobody wants to hire somebody who committed fraud a few years ago but might have left the country before prosecution. I hope members and future members understand that if we pool all we know, it is actually far more valuable for all of us."
Rob is the Chairman of HubBox, a start-up that brings click and collect services to online shoppers and retailers, as well as serving as a Non-Executive Director of Daemon Solutions, bringing retail industry experience and added commercial nous to the firm which provides technical consulting services to blue-chip clients. He is also a member of the Board of Governors for the University of the West of England. Rob is keen to see what more can be done with the data that Cifas has at its disposal.
"I'm delighted to see the National Fraud Database go into the cloud. It is great to see Cifas achieve a digital transformation of its services. The more we can explore the data using the best analytics available, the more we can find things that connect up to help the membership."