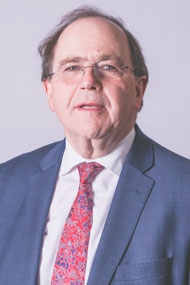 Arnold has a background in human resources and organisation. He was previously Director of Human Resources at Smiths Group plc, the FTSE 100 engineer with divisions that made airport security detectors, medical equipment, telecommunications components and mechanical seals. It had 16,000 employees worldwide and Arnold led the group's organisational development, succession planning and talent recruitment.
"I am very interested in how you manage growth in an organisation," he says. "That is something Cifas is facing both in terms of its size and scope."
He is the Chairman of the Pension Protection Fund, which pays compensation to the members of pension schemes that are declared insolvent, usually because the employer sponsoring the scheme has got into financial difficulty. The PPF has 235,000 members and £28.7bn of assets under management. Last year it paid out £661m in compensation. It is also responsible for the Fraud Compensation Fund which provides compensation on behalf of occupational pension schemes that suffer a loss because of dishonesty.
"When you are handling that kind of money the risks around cyber security and identity fraud are live issues," he adds. "I am not a believer that technology solves everything. You can have the best technology in the world but if people aren't clued in to implement it intelligently then somebody is going to find you out." He thinks Cifas' members need to be constantly vigilant if they are to get on top of the fraud threat.
"There is no such thing as complete security. What Cifas provides are the services that help members with that constant process of thinking ahead. Once an organisation believes it has reached the point it has been searching for, that is the moment it is most at risk of being bitten."
Prior to Smiths Group, Arnold was Director of Personnel at Bunzl plc, the distributor and outsourcer, and has also worked at Fisons plc and International Computers Limited in personnel roles. He served as a Non-Executive Director at the UK Atomic Energy Authority, where he chaired the Remuneration Committee, until 2010. In 2002 he was awarded an OBE for services to education.
"Organisations have to educate their staff and take them with them as they tackle fraud," he says. "I think education is particularly relevant to young people who can be too free and easy with the information they provide to others in daily life and on social media. That is why Cifas is pressing for lessons about online safety and fraud awareness to be made mandatory in schools from the age of 11."
Arnold has been a trustee of Jewish Care since 2008 and was appointed vice chair in 2012. The charity is the largest provider of health and social care services for the Jewish community in the UK and every week touches the lives of 10,000 people.
He has experienced fraud at first hand, once having his credit card cloned in a London restaurant. His details were used to make a fraudulent payment six months later in Canada. He wants to use his directorship to help Cifas expand.
"We always want to be in tune with the wishes of our members but also to some extent lead them, given where we see opportunities. Cifas can provide additional functionality and service with the aim of growing our membership in the UK, but also explore appropriate partnerships further afield."