How to protect yourself from romance fraud when you're dating online
13 February 2019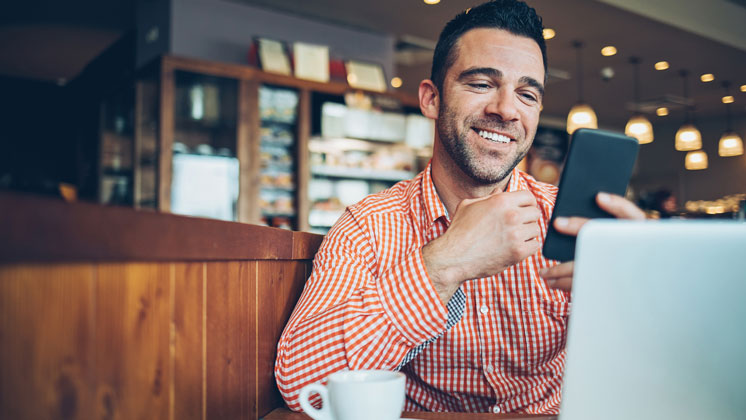 According to online dating site Match, the busiest season for online dating runs from Boxing Day through to Valentine's Day, with the peak taking place at the end of the first week in January.
With the excitement (or however you view it) of Christmas and New Year a distant memory, February has become the time for Get Safe Online and other online safety awareness resources to talk about keeping your online relationships safe. That's mainly because many people's thoughts still turn to romance around Valentine's Day, whether it's sending the traditional cheeky anonymous card, or getting down to some serious swiping.
The benefits of choice and convenience brought by online dating are well-known, with many encounters growing into long-term relationships. However, there are also downsides, one of these being the growing phenomenon of romance scams.
You've read about them, you may know someone that has fallen victim, or you may have even been the subject of an attempted or successful scam yourself. They start with authentic-looking but fake profiles using somebody else's photos – posted by organised crime gangs whose sole aim is to defraud innocent women and men who think they've found love. Typical scenarios include your new suitor needing a 'loan' to help them come to the UK to see you, or perhaps they ask you to pay for life-saving treatment for a sick relative. There are many more.
Every month, hundreds of men and women in the UK are conned out of sums as large as hundreds of thousands of pounds in this way, often causing financial ruin and the trauma that accompanies it. It's a particularly heartless crime as it also dashes victims' hopes of finding love.
How to avoid dating fraud
Here are some expert tips to help online daters keep themselves safe from fraud. We've compiled these in collaboration with the Dating Fraud Partnership, of which we are a member alongside the City of London Police, Metropolitan Police, Victim Support, Age UK and the Online Dating Association:
Don't rush into an online relationship – get to know the person, not the profile and ask plenty of questions.
Analyse their profile and check the person is genuine by putting their name, profile pictures or any repeatedly used phrases and the term 'dating scam' into your search engine.
Talk to your friends and family about your dating choices. Be wary of anyone who tells you not to tell others about them.
Evade scammers by never sending money to, or sharing your bank details with, someone you've met online, no matter what reason they give or how long you've been speaking to them.
Stay on the dating site messenger service until you're confident the person is who they say they are. If you do decide to meet in person, make sure the first meeting is in a public place and let someone else know where you're going to be.
Much online dating fraud doesn't get reported because of the victim's embarrassment. However, if you don't report a fraud (of this or any kind) that happens to you, there's no chance of getting your money back, and equally, no chance of tracking down the criminals, who will carry on defrauding innocent, hopeful people. There's no need to be embarrassed, because nobody in law enforcement is going to judge you.
If you're unfortunate enough to become a victim, report it immediately to Action Fraud at their website or on 0300 123 2040 – as well as the dating site where you met the perpetrator and your bank.
More information – including other potential pitfalls of online dating to be aware of – can be found on the Get Safe Online website.
Cifas brings local authorities into its fraud prevention network with pilot scheme
21 March 2019
Over a dozen councils have agreed to join Cifas as part of a year-long live pilot, running from April 2019, with a second tranche of councils joining the pilot later this year.
CONTINUE READING
Staying safe online when connecting at Christmas
13 December 2018
Get Safe Online's Tim Mitchell tells us how and why, during Christmas in particular, you should stay vigilant when browsing and shopping online.
CONTINUE READING
Back to blog home >