Holiday fraud: it's not 'just' your money that's at risk
6 April 2018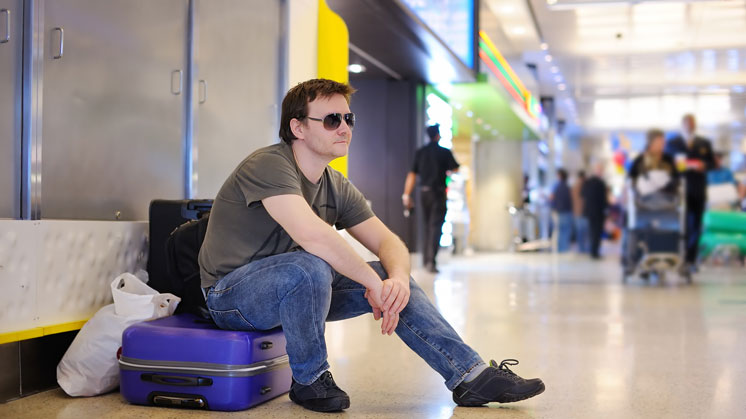 Unless you're a criminal, there's nothing positive about any fraud. But some frauds just seem particularly nasty, and I put holiday fraud in that category.
Having your money and/or identity stolen is bad enough – not just the implications of the loss itself, but also what is often weeks and even months of legwork and inconvenience associated in putting things right.
With holidays, however, there's usually emotional trauma as well. If it's a holiday you've been looking forward to (and saving up for), you've not lost 'only' your money, but the disappointment of missing out on your well-deserved break too. For a family holiday, this is increased with the upset of the children. If it's Hajj or another pilgrimage, there's the sense that you haven't fulfilled the obligations to your faith.
Every year, thousands of Brits fall victim to holiday fraud – paying for non-existent accommodation, flights or entire holidays. They fall for fake online advertisements (sometimes on legitimate sites), emails, social media posts, texts or phone calls.
Holidaymakers will find that either the accommodation doesn't exist, or it does exist but has been advertised by a fraudster with no connection to the apartment, villa, caravan or chalet. Alternatively, the flight, package holiday, cruise or pilgrimage you've think you've booked and paid for is non-existent, sometimes even if you've received some kind of confirmation.
In many cases, unsuspecting victims actually turn up at their accommodation, airport or cruise terminal, only to find that they've been defrauded. It's heart-breaking, as you've lost your holiday and your money. And if you've paid by bank transfer, banks are not obliged to cover your loss.
As with all kinds of fraud, criminals take the opportunity to target areas of the greatest reward, including where there is the highest number of potential victims. With the Internet, that's easily done.
Recently, as ski chalet and cruise holidays have become more popular, there has been an upturn in frauds relating to these kinds of trips. But that's not to say that you don't have to be equally careful when booking a week in a caravan on the south coast.
Also, the recent abolition of credit card payment surcharges means that tour operators can no longer charge you more to pay this way. We suspect this may give fraudsters the excuse to request payment by bank transfer… a classic scam.
So how do you protect yourself from being scammed when booking a holiday? Follow our top tips for avoiding travel fraud, and share them with friends or family members who are researching their holiday or short break:
Thoroughly research accommodation, flights, cruises or package holidays advertised on private advertisements, to check that they are authentic;
Check that accommodation really exists – find it on Google Maps and look for third-party reviews and recommendations;
If you can, call the owner/agent directly – if the number is not provided, email and request it;
Check reviews on TripAdvisor or similar sites;
Remember that paying by credit card means more chance of getting your money back if something goes wrong;
Never pay by bank transfer for accommodation or travel, even if you're desperate to get away, or you've left it until the last minute to book – keep in mind that the recent abolition of credit card payment surcharges may give fraudsters the excuse to tell you that they cannot accept payment in that way;
Wherever possible, book holidays and travel through members of trade associations such as ABTA or ATOL – confirm membership on these bodies' websites;
If paying online, type in the website address you know to be correct (instead of following a link), ensure the payment page is secure (starts with 'https' and has a locked padlock in the browser window frame);
Be wary of unusually cheap holidays or unusually high deposits;
Always check terms and conditions prior to making any payment;
Keep confirmations and payment receipts, and check your bank and payment card statements for irregular entries.
If you do fall victim to holiday or any other kind of fraud, report it to Action Fraud at their website or on 0300 123 2040. I can't emphasise this enough, as it does increase the chances of your money being recovered and may help to prevent others becoming victims.
Is your smart home connected safely?
11 May 2018
Controlling elements of your home remotely is becoming increasingly common, but what are the dangers and how can you protect your connected home from cybercrime?
CONTINUE READING
Working together to help young people understand the effects of fraud
7 March 2018
With young people increasingly affected by fraud as they use the technology and social media available to them, we look at how schools and parents can protect them.
CONTINUE READING
Back to blog home >