Fraud as a service: holiday accommodation ad scams
7 August 2019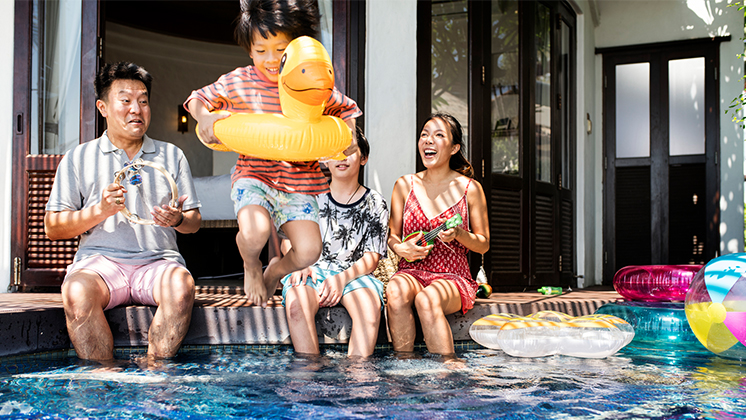 With summer well underway and the kid's mithering to go away, many are on the hunt for last minute holiday accommodation deals, and there are some great ones to be found. Unfortunately the reality for many travelers has left them wishing they never hit 'book'.
Travelers seeking a bargain room with online rental services like Airbnb and HomeAway are facing an onslaught of rogue listings posted by fraudsters seeking to make easy money from unsuspecting victims. Just last year we saw victims losing an average of £1,400 each to scams, and according to Action Fraud one in four of these cases involved accommodation. With two million people staying in host homes on any given night, its clear tourists are being targeted on an industrial scale.
As the industry of 'home away from home' bookings continues to become ever popular, the risk involved inevitably continues to rise. These large numbers of victims had me wondering, how did these fraudsters become so successful in their scams? So I turned to Google, did some simple searching, and was amazed how easy it was to discover not only how these frauds were being committed, but how easy it has become to be one of the scammers – it's no longer just the tech junkies and hackers. We are now in the age of fraud as a service.
How you ask? The Land Lordz, yes with a z…
Land Lordz is a software program and the leading producer of holiday ad scams. All it takes is a monthly subscription of £430.00 and anyone can gain access to the Land Lordz software. The subscription allows you to juggle 500 fake ads and interact with 100 unsuspecting victims with ease. The software will automate the creation and management of fake listings for its subscribers making it quick and easy to flood the internet with ads that look professional and legitimate in just minutes. The program also allows the fraudster the ability to add positive comments from supposed past tenants, while the images are simply pulled and copied from real listings.
While that is all very concerning, the most alarming thing I noted about this software is when the potential victim clicks the link in an attempt to gain further details about the listing, a redirection will occur. This redirection takes the victim to a phishing site that resembles the real site, such as Airbnb.com or HomeAway.com. By making this fake site believable enough, victims are tricked into attempting to login, often creating a new account filing in fields of personal information. Using the phishing links, fraudsters are able to dupe victims into paying deposits and in many cases the full amount for fake holiday listings, gaining the victims personal information such as full name, date of birth, address, passwords, financial information etc. all of which can be then be used to commit further fraud against the victim or sold as part of compromised details on trading websites.
Signs it's a scam
Many travelers use sites like Airbnb thinking it is fraud proof, however it is just as easy for these fraudsters to spoof an Airbnb web address as it is any other site. The image below shows the URL that almost worked and would have scammed this team out of thousands of pounds.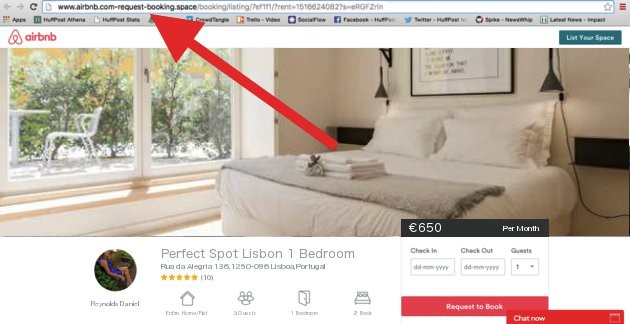 The web address appears as, 'www.airbnb.com-request-booking.space/booking'. At first glance it appears to still be an Airbnb.com webpage, but it is indeed a spoofed website, booking.space/booking = SCAM.
There are other clues on the webpage that give away its falsity. Firstly the webpage shows the flats entire address, which is not information Airbnb releases until a successful booking is made. Additionally the chat box at the bottom should raise suspicion as the colour is off from Airbnb's brand colours.
How can we make sure our bookings are legitimate?
Top tips:
Never pay by bank transfer. Where possible always use your credit card to pay for the booking for maximum protection;
Never click on a website payment link sent to you by email;
Only communicate with owners through the websites messaging system; never communicate directly through email or another messaging service;
Only pay though the sites secure booking portal; do not make a bank transfer or use another system of payment outside of the sites secure portal;
Right-click on property images and choose 'search Google for image'; If the same image is being used to advertise other properties, it's almost certainly a scam;
Booking with a travel agent? Make sure it's a member of ABTA, and, if you're booking flights too, ATOL;
Remember – if it seems too good to be true then it probably is.
Fraudsters will always have an excuse for any red flags that may pop up, so a good tip I saw many savvy travelers suggest is to copy and paste the email into Google. In many cases this will pull up the fraudsters previous victims sharing their scam email or details on forums such as the Airbnb Discussion Rooms.
You will never be directed away from Airbnb.com when booking or making a legitimate payment – and never make any payments through Gumtree or bank transfer. If possible try to only use credit cards, or a debit card as a second best.
Been a victim?
Once you discover you've become a victim there are a few ways you can attempt to get your money back:
If you booked via a listing website such as HomeAway or Airbnb, contact them to see if your payment is protected;
If you paid by credit card, you have protection if things go wrong under Section 75 of the Consumer Credit Act;
If you paid by debit card you may be able to reclaim your cash via your card provider's Chargeback scheme;
If you've transferred money into another bank account, you should contact your bank immediately to see if they can recover the funds.
If you're the victim of a travel-related fraud, report it to Action Fraud.
Don't let a scammer enjoy your retirement
15 August 2019
Scammers are targeting pension pots of all sizes. Make sure you know how to spot the warning signs and how to keep your hard-earned pension safe.
CONTINUE READING
How is social media used to commit fraud?
31 July 2019
With social media sites being more popular than ever, it's important to make sure you are taking the necessary precautions and being social media smart. Get Safe Online offers their tops tips and advice.
CONTINUE READING
Back to blog home >