Ticket fraud: how to avoid becoming a victim
5 March 2018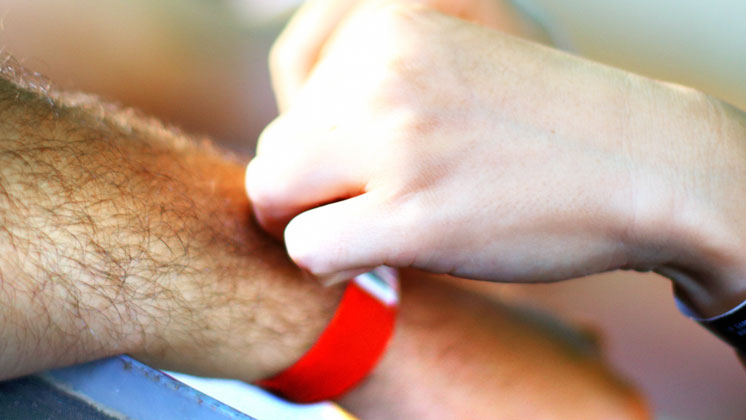 Every year, thousands of people in the UK fall victim to ticket scams – being sold tickets that are fake or, more commonly, do not even exist. These can be for anything from a major international event like the Olympic Games, UEFA World Cup or star-studded rock festival to a Premier League football fixture or an arena gig.
All fraud is insidious, but ticket fraud represents both a financial and emotional loss. Not only are you tricked out of your money, but you're also hit with the disappointment of not being there on the day. These losses are exacerbated when you buy tickets for friends or family, along with your own.
Ticket fraud normally occurs when you've missed out on buying from official sources such as the sports club, promoter, venue box office or authorised reseller – or a recognised fan site. Desperate to secure tickets, you resort to auction sites, social media or placing a want ad on a fan forum.
The sting takes place when the seller tells you they want payment quickly or can't accept card payments, therefore requiring a direct bank transfer. Recently, some sellers are using the excuse of the new legislative ban on levying a surcharge for credit card purchases, for needing a payment in this way.
You won't know that you've become a victim of ticket fraud until the date of the event is looming and you haven't received the tickets, or possibly even worse, until the barcode on your tickets isn't recognised at the turnstiles.
Of course, some advertisements placed via these channels are indeed genuine, but how can you tell?
I spoke to a Manchester City supporter who, desperate for tickets for himself and his father at an away fixture, resorted to posting a message on Bluemoon, an unofficial City fan site. Another user – using a pseudonym is as normal on such forums – responded that he had two unwanted tickets for £40 each, and our fan transferred the £80 to the seller's bank account, having supplied his address for them to be sent to.
When the tickets hadn't arrived a week before the game, he tried to call and email the seller, but the silence was deafening. Checking on social media, he realised that he – along with many fellow fans – had been duped. £80 may not seem a worthwhile reward for this type of criminal activity, but multiplying it by the number of victims represents a considerable return.
In this case, the fraudster was traced by the police and apprehended, and it turns out that he was a habitual offender, to the point of having previously served a custodial sentence. But he couldn't resist the temptation to reoffend.
I also spoke to an Ed Sheeran fan who was desperate to see her idol at a concert in Miami. She placed an ad on Gumtree looking for unwanted tickets, and was contacted by a seller who told her that one of his party members hadn't been able to obtain a US visa, hence the tickets' availability.
Long email conversations convinced our fan that the seller and tickets were genuine, including discussing seat numbers. She transferred the payment – plus recorded delivery fee – to the seller's bank account, but like our Man City fan, the tickets didn't materialise and the seller disappeared.
To avoid the financial loss and disappointment resulting from ticket fraud, Get Safe Online has put together some expert tips to remember when looking for tickets:
Buy tickets only from the venue's box office, sports club, promoter, official agent or reputable ticket exchange sites;
Consider that tickets advertised on any other source such as auction sites, social media and fan forums may be fake or non-existent, however authentic the seller may seem and even if they're advertised at or above face value;
Never pay for tickets by bank transfer, even if you're desperate to get hold of them. With the abolition of credit card payment surcharges, some sellers may ask you do this. The responsibility for losses lies with you, your bank won't refund your money;
Consider paying by credit card to get additional protection over other payment methods;
Double-check all details of your purchase before confirming payment;
Don't be tempted to click on social media, text or email links or attachments offering tickets, as they could link to fraudulent or malware sites;
Before buying online, check that the page is genuine (carefully enter the address yourself, not from a link) and secure (https and a locked padlock), and log out when you're done;
Check sellers' privacy and returns policies;
Keep receipts until after the concert or game;
If you do fall victim to ticket or any other kind of fraud, report it to Action Fraud via their website or on 0300 123 2040.
Working together to help young people understand the effects of fraud
7 March 2018
With young people increasingly affected by fraud as they use the technology and social media available to them, we look at how schools and parents can protect them.
CONTINUE READING
Is machine learning and AI the answer to your fraud team's ongoing fight against financial crime?
1 March 2018
Fraud loss estimates vary but all are agreed it's on the rise – is machine learning and AI the answer to the growing pressure on fraud teams?
CONTINUE READING
Back to blog home >