Company directors at greater risk of identity fraud
Author: Lady Barbara Judge, CBE
Posted: 15 June 2017
---
A new report launched this week by Cifas and LexisNexis Risk Solutions reveals that company directors are more than twice as likely to be the victims of identity fraud compared to the rest of the general population.
As Chairman of both Cifas and the Institute of Directors, I was interested to read this latest piece of research on the increased susceptibility of company directors to fraud.
A director of a company is a visible, responsible and accountable person: details such as their name, address and date of birth are logged with Companies House; their bank, insurer, and no end of utilities and business services companies will have their personal information; and as the voice of their organisation, they will in all likelihood have a media or online presence which includes their photograph; contains some of their personal details; and perhaps even their signature.
Unsurprisingly therefore, directors are particularly vulnerable to attack from identity thieves. What is new, however, is these findings reveal that directors' identities are also used to obtain a disproportionately high number of online retail and mobile phone accounts. Evidently fraudsters have recognised that applying in volume would not be seen as unusual activity for a director of a business.
Falling victim to an identity crime can be a traumatic, frustrating and lengthy experience. Although in most cases you are not liable for the funds, it is the hours it takes to rectify the situation that has the greatest impact on victims. Having to prove it wasn't you and repairing your credit history makes the whole experience even more painful.
For this reason directors can ill-afford to ignore this research and their inevitable vulnerability. While the proliferation of data loss through hacks and breaches has made a significant contribution to the rising levels of identity fraud, there are steps that company directors should take if they are to limit the potential damage that a fraudster can make.
There will always be more publicly available information about those who run their own business compared to other individuals. Fraudsters are happy to play the long game and piece together as much detail as they can to complete the 'jigsaw'. It is not easy to keep everything in our lives private in today's modern world, but I would encourage company directors to do as much as possible to separate their personal and company personas.
I would be keen to share this advice with Lord Sugar, who recently had what could be described as a 'social media outburst' with regards to his tax affairs and tweeted a picture of a personal cheque. Although he wisely blanked out his bank account details, the name of the bank and his signature was clear for the world to see.
Of course Lord Sugar is very much in the public eye but that doesn't necessarily mean he is invulnerable. One of the most high profile identity fraud cases in recent times has been TV presenter Gloria Hunniford – being well-known doesn't necessarily keep you safe from identity theft.
With these high profile examples in mind, those in business should take note and limit personal information on social media and professional networking sites and certainly avoid posting sensitive details online. Proactively checking their credit file and their accounts is a very important step. The quicker they spot that their details have been used fraudulently, the easier it will be to limit the damage caused.
Joining the PROOF scheme offered by Companies House can also put company directors one step ahead as it offers improved security, and alerts them if any of their company information has been changed.
With identity fraud reaching record levels in 2016, and almost one in two crimes now a fraud or cybercrime, it is unlikely that this upward spiral will end any time soon – anyone can be a victim and we must all be alert, and do what we can do to avoid what is essentially a preventable and avoidable threat.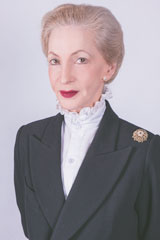 Lady Barbara Judge, CBE
Lady Barbara Judge is Chairman of Cifas.
Read her full biography.