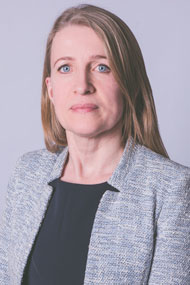 Penny is a former corporate finance partner and board member of Deloitte UK LLP with broad experience of strategic planning, corporate governance and risk.
"I did the due diligence on businesses being bought and sold by clients, looking at how robust their business plans were and how well they had budgeted," she says. "I would say it is the most forward-looking part of the accounting profession."
She specialised in consumer businesses, retail, healthcare and manufacturing and was the lead partner on more than 50 transactions. Penny remains involved as Chair of the Deloitte Former Partners' Association for London and the South East, an alumni association for 400 former partners. As well as chairing the Audit Committee at Cifas, her aim is to help the organisation plan ahead so it can seize the opportunity to expand in a growing market.
"If you look at fraud and where you combat it, the challenge is there is almost too much to do. That to me is a source of excitement. You are more likely to be robbed at your computer than robbed in the street these days," she says.
Penny is a Non-Executive Director of Equitable Life, the UK's oldest mutual life assurance company. It closed to new business in 2000 but still looks after savings and investments for over 300,000 people and has £6.6bn of funds under management. The read-across to Cifas comes from looking after vulnerable customers.
"Because of pension freedom, people aged 55 and up can now take their pensions contributions in cash. It means they are being targeted very actively by scammers who try to persuade them to invest in schemes they say can help to avoid tax. At Equitable Life, we are trying to protect customers when they take their money, such as by training customer service staff to listen out for people who are confused or asking the same question twice."
Attending Cifas' annual conference, Penny was struck by a presentation from the charity Victim Support, which overturned the working assumption that people who are hit by fraud suffer much less than victims of burglary and violent crime.
"If you are a victim of fraud, the people around you are not as sympathetic but often you can feel guilty and stupid and the impact of losing family money family can lead to depression," she adds.
Penny is also a Non-Executive Director at Howard Kennedy, a City law firm with more than 50 partners. She fills the same role at Envestors, a corporate finance firm that raises sums of between £500,000 and £10m for high-growth companies. Most recently, she joined the board of UK Athletics, the sport's governing body, having played field hockey, golf and been a fitness enthusiast from a young age.
On a career break, she co-authored a four-book contemporary women's fiction series about a lawyer, an accountant, a doctor and a banker. Penny may pick up her pen again when she can find the time.
She began her career as an audit trainee at PwC in Manchester.