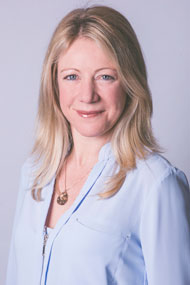 Alison is the Chief Strategy Officer at News UK, the media group that owns The Times, The Sun and talkRADIO, where her focus is on long-term business development. Prior to that, she was the Deputy Managing Director for Sky Business, the division of the entertainment company that sells services into thousands of pubs and clubs across the UK.
"I bring to Cifas a good mix of strategy skills but a really commercial mind as well," she says. "I really like where the organisation is going and what it is trying to do. The whole area around the protection of intellectual property is becoming increasingly important and we have to get the message across about how effective this organisation can be in that space."
Alison has experienced commercial piracy at first hand, when Sky has been forced to prosecute venues that broadcast its channels without a licence. "Initially it was more of a problem on the commercial side but it has expanded now and in the last three or four years has started occurring on the residential side too. From being involved in big companies where protecting your networks and your staff has just been a given, I don't really understand why some people are so blasé about it."
But it is not just an issue for companies she says. "The problem of trying to protect your own IP is encroaching more and more into people's daily lives."
Alison wants to talk to more members and would-be members to better understand what the blockers are to signing up to Cifas. As it seeks to collect data from a greater number of organisations across more sectors, the message is that that can be done without compromising a business and without it costing the earth. There is a lesson to be learned from her day job.
"Joining together needn't be as counterintuitive as it has been for some organisations," she says. "Newspapers in this country have been competing to the death for years but coming together to combat the likes of Facebook and Google is something that is increasingly happening. If it can take place in this sector, I don't see why it can't happen anywhere else."
Earlier in her 15-year Sky career, Alison was Group Treasurer and a divisional Finance Director. The majority of her working life has been in treasury, primarily within the telecoms sector, issuing debt and managing risk for companies such as Energis, One2One and FirstMark Communications. Her aim is to help Cifas think more commercially and consider how it can use its expertise to fill the gaps in its product offering.
"We need to be able to claim that Cifas truly owns the space of fraud prevention and detection," she adds. "This organisation needs to be the first solution that springs to mind when companies are thinking about how they can protect themselves and we must have the confidence to invest accordingly."
Alison has a Masters in Finance from University College Dublin. She enjoys running and golf.